Bee Pest Control
Although bees are crucial to pollinating, they can be a significant danger to people or pets when hives are too close to your home or business. If you regularly see or hear bees at your location, chances are they are too close for comfort. A bee pest control inspection by Arizona Organic Pest & Termite Control professionals is the first step to ensure your property and the people on it aren't in danger from a potentially harmful bee infestation.
Professional Bee Removal
Arizona Organic Pest & Termite Control is experienced with bee pest control, handling several species of bees including:
Carpenter Bees
Bumble Bees
Wasps
Africanized Honey Bees
Bee Pest Control
Bees On Your Property?
Signs of bee nesting activity to watch for include a fairly constant presence of bees flying in and out of openings on your houses or other structures. Periodically check for consistent activity in trees, block walls, sheds, or other structures on your property. Bees that have taken up permanent residence anywhere on your property require immediate attention.
Never Attempt to Remove a Beehive Without Professional Assistance
In addition to the danger of potentially fatal bee stings, bees often nest in inconvenient locations and can cause significant property damage. An entire hive is predisposed to fiercely attack when the nest is threatened. Do not attempt to manage or remove a bee or wasp nest on your own.
Contact Arizona Organic Pest & Termite Control as soon as you see signs of bee or wasp activity. Our licensed and trained pest management experts know exactly where to look to identify a bee colony that has invaded your home or commercial location and provide you with appropriate bee pest control service.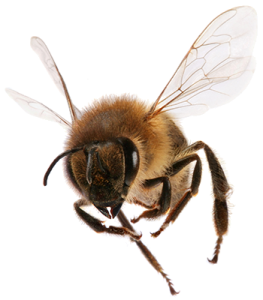 To learn more about bee pest control and how to eliminate them properly, contact a Arizona Organic Pest & Termite Control specialist for a free assessment.